View this article as it originally appeared on the Gazette-Virginian website here.
Microsoft TechSpark celebrates third anniversary, looks forward to 2021 as construction wraps up at new South Boston headquarters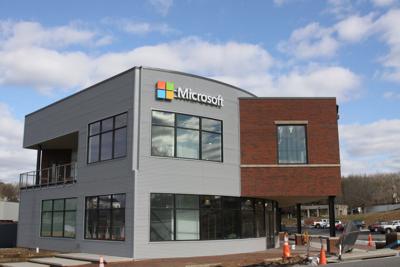 Microsoft TechSpark will have a new headquarters in the new year — in a newly constructed, state-of-the-art building in downtown South Boston.
The program is celebrating the third anniversary of its founding, and in 2021, the Southern Virginia region of the program will be based on the first floor of the SOVA Innovation Hub at 715 Wilborn Ave.
"TechSpark is a civic program that's aimed at job creation and economic growth in rural communities," explained Jeremy Satterfield, Microsoft TechSpark Southern Virginia manager. "Southern Virginia was one of the seven regions chosen by Microsoft to deploy the TechSpark program."
Satterfield shared a list of accomplishments Microsoft TechSpark has made in the past three years, and with the opening of the SOVA Innovation Hub, he anticipates the expansion and continued success of those programs.
"Technology Education and Literacy in Schools (TEALS) has expanded into every high school in the Southern Virginia TechSpark region, Girls Who Code clubs have sprouted up in Halifax County and Mecklenburg County, free public WiFi networks were deployed in Boydton and Clarksville, the ChangeX program was launched, and of my signature project, the SOVA Innovation Hub, was announced," Satterfield detailed. "There are numerous organizations in Southern Virginia that are doing phenomenal things, but our hope is that bringing those existing organizations, and new ones, together, we will help drive impact deeper throughout the region."
The Hub is a collaboration between Microsoft and Mid-Atlantic Broadband Communities Corporation. The building in which the Hub will be housed is still under construction, and Satterfield estimated the doors of the Hub would be open in mid-February 2021. It is the first new building to be constructed in downtown South Boston in more than four decades.
In the midst of a global health pandemic and a time of economic uncertainty, the two-story, 15,000-square-foot SOVA Innovation Hub dominates the landscape of the town of South Boston like a lighthouse guiding captains of ships in the darkness of a stormy night. And like the captain of a ship navigating and charting a vessel's course, Microsoft TechSpark seeks to give Southside Virginia residents the skills to compete in today's high-tech workforce. New job creation in the area is a potential impact of the innovative collaboration at the Hub.
"The intent for the Innovation Hub has always been to bring programming and training opportunities to the residents of Southern Virginia. We see the opportunity to work with individuals in every stage of their lives, K-12 students, college students, career changers and those life-long learners," Satterfield said. "We can certainly envision that technology based jobs and opportunities could spawn from collaborative innovation, but our primary focus will be bringing those programming and training opportunities to the forefront for Southern Virginia residents."
The Micosoft TechSpark Southern Virginia manager said he sees one of the organization's programs, the Girls Who Code Club, growing "exponentially" with the opening of the SOVA Innovation Hub, because partners will be on site to assist with the launching of new clubs.
Satterfield related that the Girls Who Code Club was started after he held an event in Halifax County with the Mentor Role Model Program in April 2018. Microsoft TechSpark decided to launch a Girls Who Code Club in partnership with the Mentor Role Model Program and the Halifax County Middle School, and the club has actively met for two years.
"That particular program focuses on girls in diversity and was designed to work with children to give them exposure to things they normally could not get exposure to," explained Angela Townes Yancey of the Mentor Role Model Program. "It really opened up the doors of opportunity for a lot of these young ladies to see that coding can be so many things. It can be creating web pages…It can be fun, it can be interesting."
Yancey said taking the Girls Who Code class in the sixth grade opened up her daughter Aniyah Yancey's eyes to a new career pathway. Before taking the class, Yancey, who is now in the ninth grade, had expressed an interest in becoming a nurse but did not like the sight of blood.
"Girls Who Code opened a door for her because she realized that she doesn't have to be a nurse to help people. Now she decided, she wants to go into information technology, but in the nursing field – IT and health occupations," Yancey said.
Microsoft TechSpark is committed to providing technology-based educational training opportunities not only to school-aged students but also to adults seeking to upgrade their workforce skills.
Microsoft recently partnered with gener8tor and the SOVA Innovation Hub to bring a free, virtual, self-paced upskilling program to residents across Southern Virginia to help them sharpen their knowledge and abilities in customer service/ sales, Satterfield shared. The participants completed the five-week program on Nov. 20. and are currently working with mentors and coaches to identify and apply for employment opportunities.
While having a skill set in technology has always been important to be competitive in today's workforce, the COVID-19 pandemic has further highlighted the need for those technology skills with many employees working remotely from home, Satterfield commented.
"At a time when a record number of Americans are working from home across the United States, most rural residents lack vital digital skills that can unlock opportunities in the new digital economy," Satterfield stated. "In such an important time in history, we chose to partner with gener8tor and SOVA Innovation Hub to bring an upskilling opportunity to the residents of Southern Virginia that will position them to compete for advanced jobs regionally, as well as nationally. This new skilling opportunity will allow our lifelong residents to remain in the region while securing gainful employment."
Yancey for one sees Microsoft making a home in South Boston at the SOVA Innovation Hub and bringing more opportunity to the residents here as a major plus for the area.
"I think having Microsoft here is a wonderful initiative," she said. "Hopefully having Microsoft here will create doors that can be opened and the Southern Virginia Higher Education Center will give us the resources to open the doors."
Miranda Baines is a staff writer for The Gazette-Virginian. Contact her at mbaines@gazettevirginian.com.